('Barre' is pronounced 'bar' as in 'barre chord')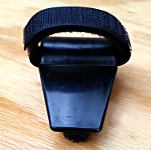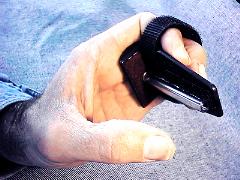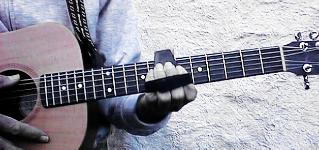 Revolutionary new method

No fingerings

No tedious hours of practicing


Simple to use 'barre chorder'

Play most chords and songs after one easy lesson


Attractive fret board chord labels - nothing to memorize


Immediate success for all ages

No note reading

Easy electronic tuning


Perfect for every living room, classroom, recreation room


Legitimate instruction method used by many music educators


Perfect for teaching large groups, schools, churches, camps, rec. centers, seniors, etc.


For all guitars, banjos, mandolins and ukuleles


Learn instantly

Similar to the method used by the pros


Made in the USA

VIDEO DEMO
PLAY ALL MAJOR/MINOR CHORDS EASILY/INSTANTLY
(no fingerings) on any GUITAR, BANJO, MANDOLIN or UKULELE
•
For easy DULCIMER CHORDING,
please visit our Dulcimer Simplified page.

• • •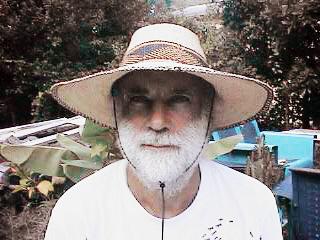 Dick Bozung
You'll Be Surprised How Easy Playing the Guitar Can Be
There are a lot of internet site claims about GUITAR MADE EASY. Only the GUITAR BARRE® METHOD, utilizing traditional methods ("open tunings" and "barre chords"), makes chording ALL fretted instruments really EASY. Nothing else can guarantee you'll be playing ALL MAJOR and MINOR CHORDS after just one hour of practicing. You will absolutely love this EASY METHOD. The GUITAR BARRE® chording device, our METHOD BOOKS and companion DVD's have been produced to ensure that ALL BEGINNERS (and experienced players) will SUCCEED.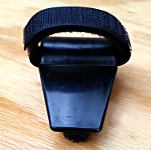 The
GUITAR BARRE
®
The
DULCIMER BARRE
®
The GUITAR BARRE® METHOD works with ALL standard sheet music with chord notation and on ALL fretted instruments (guitars, ukuleles, banjos, mandolins, etc., utilizing the strings provided - right or left handed). Just the tunings are different – everything else is the same.
ALL the pros use a form of this method wherein they "barre chord" with their finger or a "slide". The GUITAR BARRE® makes playing "barre chords" much easier. You can play along with anyone who is using the "standard tuning" and who is fingering chords. You can play in ALL KEYS, and without having to use a "slide" or a "capo" (other "tools" commonly used by the pros to make playing easier). For Dulcimer players, check out our DULCIMER BARRE and BOOK.
The
CHILD'S BARRE
®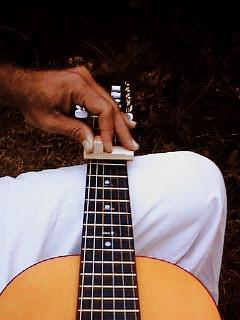 Using the
CHILD'S BARRE
®
Note: For young children, usually ages 4 – 7, we recommend starting with the Child's Barre which is the same as the Dulcimer Barre. Please see our page for Working with Young Children.
Many of our customers have been kind enough to send us feedback on their experiences using the
GUITAR BARRE® METHOD.
~
You can read their feedback on our
Testimonials page.
• • •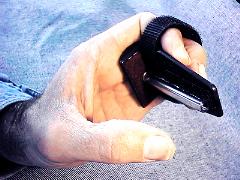 The GUITAR BARRE
®
A revolutionary, totally new,  no  fingerings  method guaranteeing immediate success for beginners. Using the GUITAR BARRE®, an easy to use 'soft barre' chording device (a hybrid of the 'capo' and 'slide' used by most guitarists), along with a simple METHOD BOOK and play-along DVD, you will be able to play all major and minor chords after  just  one  lesson!  Perfect for anyone who wants to play most songs just for the fun of it, with little practicing. (95% of those who want to play never do with fingerings - EVERYONE SUCCEEDS with the GUITAR BARRE® METHOD.)
In the words of one prestigious music educator from Texas who operates her own music studio and conducts music workshops all over the country:
"The GUITAR BARRE® METHOD is for everyone who ever wanted to play the guitar. It will become the beginning guitar teaching method of the future! The short and easy-to-use METHOD BOOK and play-along DVD really have beginners successfully playing the guitar within an hour. With this method you can play all major and minor chords, any song in any key. Unlike other shortcut guitar methods with severe limitations, this is a totally legitimate method that will have you playing for the rest of your life. And if one chooses to go on and try traditional fingering methods, starting with the GUITAR BARRE® will help you to succeed."
Although hard to believe, it is all true. This is totally unlike any other guitar method being used. Children (age 6 / 7 +), teens, early childhood and elementary school teachers, parents, seniors and many others are all chording their favorite songs after just one easy lesson. They are picking up the guitar and playing whenever they please, alone and with families and friends, in living rooms, classrooms and churches, and relishing the gift of making their own music.
Here is how one parent/kindergarten teacher described the GUITAR BARRE® METHOD:
"This is the greatest thing musically that has ever happened to me. I always wanted to play the guitar, but all those chord fingerings were just too difficult. After an hour's practice I was playing my daughter a bedtime lullaby. Even more astounding, I was using the guitar to play a variety of children's songs for my kindergarten students."
• • •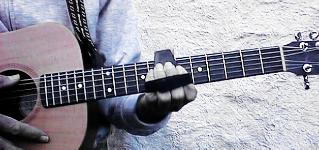 Playing a chord
with the The GUITAR BARRE
®
This new method is extremely simple. It uses an 'open tuning' strategy (strings tuned to a C chord) like that used by many guitarists and teaches beginners how to tune their instrument electronically (tune by sight, not by ear - now really easy for everyone to tune their instrument). Labels placed along the fret board of the guitar guide beginners to the correct 'barreing' position to play any chord. The GUITAR BARRE® is pushed down against all of the strings at the label corresponding to the chord in the music, and instantly you are playing a song.
For example, in the song AMAZING GRACE, there are three chords: C, F and G. Chords are simple to read and are on all guitar music (they're the letters above the music) . You do not have to read notes.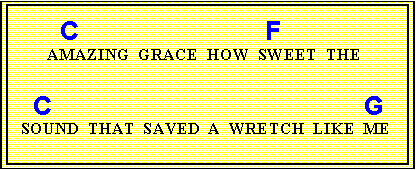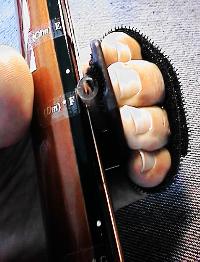 'Barreing'
the F chord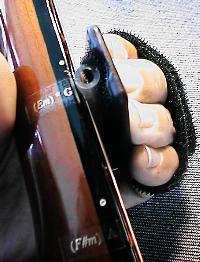 'Barreing'
the G chord
The beginning C chord is played 'open', simply by strumming across the strings. Your chording hand is not even touching the guitar.
The F chord is played by pushing the GUITAR BARRE® down against all of the strings at the F labeled fret, and then strumming across the strings with your other hand.
The G chord is played by pushing the GUITAR BARRE® down at the G labeled fret. It couldn't be much easier.
You can play most songs in a similar fashion, with little practicing. Even if a song has unusual chords like maj7ths, sus, dim, aug, and m7, the labeling system has been designed to automatically enable you to play the harmonically substitutable major or minor chord and the song will come out sounding fine.
Additionally, each GUITAR BARRE comes with two interchangeable bars for making contact with the strings (instead of your finger). The Soft Bar gives the traditional fingered barre chord sound, while the easily interchangeable Hard Bar enables one to easily play "slide" guitar. In effect, you are getting two "tools" in one, enabling you to use the GUITAR BARRE in lieu of a "bottle neck slide".
• • •
• • •
All of the following materials, and many more, along with current pricing may be found on our Online Order Form.
• • •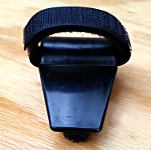 The
GUITAR BARRE
®
The GUITAR BARRE®, along with a simply written BEGINNERS METHOD BOOK (labels included) and play-along Level I DVD, will get you started playing all major chords and also covers how to tune your instrument easily (tuning is now a snap, with inexpensive electronic tuners). A new way for beginners to deal with playing minor chords is also covered. We guarantee you'll be playing your favorite songs within an hour! No music reading or playing background is necessary.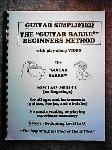 Beginner's
Method Book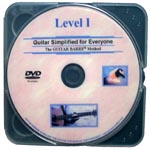 Level I
DVD
This method works on all guitars (acoustic and electric) and on all banjos, mandolins and ukuleles as well, and for both right and left handed players. There is even a section on a new way for children as young as 3 to play the guitar in an "open strumming" mode, where they can accompany any song without having to change chords. And the Guitar Barre is perfect for anyone with a disabling hand or finger injury.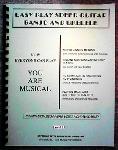 Level II
Method Book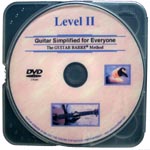 Level II
DVD
An optional follow-up INTERMEDIATE LEVEL II METHOD BOOK and play-along LEVEL II DVD will teach you how to 'barre' all minor and 7th chords utilizing a revolutionary new 'modified open G tuning'. The book and DVD also cover how to play melodies, play 'slide style' using the interchangeable 'hard bar', transpose music (change key), and much more.
NOTE: For most beginners we recommend you start out with the very easy to read/follow Level I Book and DVD to help insure success, and then move on to the Level II Method if you want. However, if you already have some guitar playing experience and/or a musical background, and know you want to play ALL major, minor and 7th chords, you can start immediately with the slightly more complicated Level II Book and DVD. It covers everything in detail.
For Beginning Five-string Banjo, we recommend beginners start with the Level II Materials in G because five-string banjos are already open-tuned in the key of G.
Similarily, if you are using the larger Baritone Ukulele, we suggest you start with the Level II Materials as this instrument can be tuned in G and played to produce all major and minor chords.
ELECTRONIC TUNING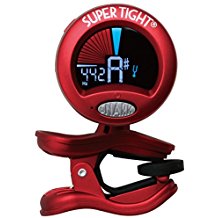 Snark
Clip-On Chromatic
Electronic Tuner
Tuning is now a snap with electronic tuners - you can be deaf and tune accurately. The easiest way to tune any stringed instrument is with a Chromatic Electronic Tuner. Be sure to get a chromatic tuner (recognizes all notes) and not just a standard guitar tuner (some of which recognize only the notes for a standard tuned guitar - much harder to use when the instrument is way out of tune).
Consider getting a clip-on tuner which clips onto the headpiece of the instrument like the one pictured here. The advantage of the clip-on tuner is that it is not distracted by other noise or instrument sounds nearby. There is also a chromatic tuning app available for free for any smart phone – see PANO TUNER for more information (turns your phone into a hand held tuner).
• • •
A complete list of all the items for sale is available on the

Online Order Form
(for US customers only).
OR
By Email, Mail or Phone
(for US and ALL INTERNATIONAL customers)

If you are not completely satisfied, you may return items within 30 days for a full refund (less shipping and Paypal processing fees).

Quanity discounts are available to schools, music stores, music studios, churches, recreation centers and others who qualify. Purchase Orders from schools, churches, etc. are perfectly acceptable.
Please feel free to call us at
1-804-725-0355
if you have any questions.
• • •
WEST MUSIC, the largest distributor of musical instruments and accessories to music educators and music therapists in the US, has offered the GUITAR BARRE® for sale for many years and continues to distribute our products worldwide.

A List of Professionals that have Used
Open Tuning and Barre Chords
For lack of a better place to insert this, here is a very partial listing of some of the many professionals who have used "open tunings" (strings tuned to a chord) and "barre chords" (this list would include ALL "Bottle Neck Slide, Lap Steel, Hawaiian Slack, and Dobro" players):

BOB DYLAN, JONI MITCHELL, DAVID CROSBY, NEIL YOUNG, LEO KOETKI, ALEX DeGRASSI, STEVIE RAY VAUGHN, RICHIE HAVENS, RICH ROBINSON, BONNIE RAITT, KEITH RICHARDS, ERIC CLAPTON, JIMI HENDRIX, ELVIS PRESLEY, CHRIS WHITLEY, DOLLY PARDON, ROY ROGERS, DUANE ALLMANN, EDY van HALEN, STANLEY JORDAN, ALBERT KING, RY COODER, GEORGE THOROGOOD, GEORGE van EPS, SON VOLT, ALBERT COLLINS, TONY FURTADO, MICHAEL MESSER, DIAMOND DARRELL, ROBERT JONSON, MUDDY WATERS, BLIND WILLIE JOHNSON, ELMORE JAMES, MIKIE COOPER, JOHNNY WINTER, LOWELL GEORGE, SONNY LANDRETH, JIMMY PAGE, DEVIN TOWNSEND, MICHAEL HEDGES, MISSISSIPPI JOHN HURT, JIMMY ROGERS, ETC., ETC., ETC..............